By Oke Odunmorayo
12 March 2023   |  
9:30 am
A bold red lip is considered a classic beauty staple in the makeup industry and it has proved itself time and time again to be worthy of its title. Rihanna, courtesy her iconic SuperBowl performance, has also popularised the red lip once again, and has everyone scrambling to reach for the next red lipstick nearby.…
A bold red lip is considered a classic beauty staple in the makeup industry and it has proved itself time and time again to be worthy of its title.
Rihanna, courtesy her iconic SuperBowl performance, has also popularised the red lip once again, and has everyone scrambling to reach for the next red lipstick nearby.
Red lips come in various shades, tones and hues with some being lighter and faint with pink, coral and orange undertones while some others are deeper and bold with scarlet, maroon and burgundy undertones.
All you have to do is, determine your skin tone, and most importantly, your undertone because your skin tone may change due to the seasons and weather, but your undertone remains the same come rain, come shine. The red lipstick should compliment your skin tone as well as your undertone.
The primary goal of any red lip you choose is for it to complement your skin tone as well as your undertone.
Here are six ways you can do that:
Skin tone is the level of melanin in the skin that ranges from fair to dark, while undertones are the colors (red, yellow, or blue) that, within your skin tone, create your specific complexion.
Cool undertones appear to be more pink/blue, warm undertones appear to be peachy/golden while those with neutral undertones have a mix of both cool, warm and olive undertones.
Here are two ways you can determine your skin undertone:
The Vein Test
The vein test is the most tried and true method of checking one's undertone. We recommend checking the vein in and around your face and neck for accurate descriptions.
If your veins appear to be blue, you have a cool undertone. If your veins appear green or olive, you're warm. And if your veins appear as a mixture, you have neutral undertones.
The Jewelry Test
If silver jewelry complements your skin, you have a cool undertone and If gold jewelry complements your skin, you have a warm undertone. But if silver and gold jewelry both look flattering on you, you have a neutral undertone.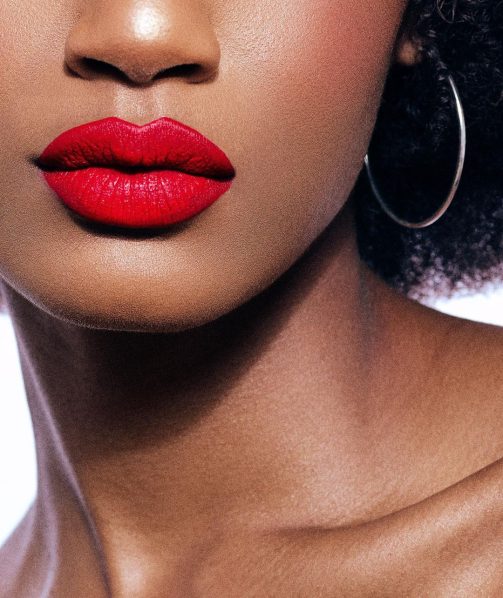 Warm Undertone
The majority of ladies with warm undertones have dark skin, but warm undertones also encompass yellow, peachy, olive and golden. Some fair skinned people also have warm undertones too.
Warm skin undertones look their best with gold jewelry as opposed to silver. People with warm undertones usually tan easily and rarely get sun burns.
Red is also the holy grail of bold lip stains that flatter brown and dark skinned women. Your undertone works beautifully with warm brown tones and deep shades of reds.
Warmer lipsticks have yellowish, golden or even peach, orange undertones. They also lean towards browns, golds etc
Cool Undertone
Most people with cool undertones have pinkish, reddish undertones to their skin. They also tend to burn easily under the sun and rarely tan.
What's a better way to amplify your cool skin than with lipsticks with blue and purple undertones? Look for red lipsticks with blue undertones like plum, crimson and mauve.
Neutral Undertone
If you're finding it very difficult to determine your skin's undertone through the methods explained above, that is most likely because you have a neutral undertone.
Neutral skin tones have both cool and warm tones so there's pretty much nothing that doesn't suit your luscious skin. So stop stressing already!
Ladies with neutral skin tones have more versatility when it comes to picking red lipstick. This is because both cool and warm reds work well for you. However, stay clear of corals, as they can make your skin appear dull.
[ad unit=2